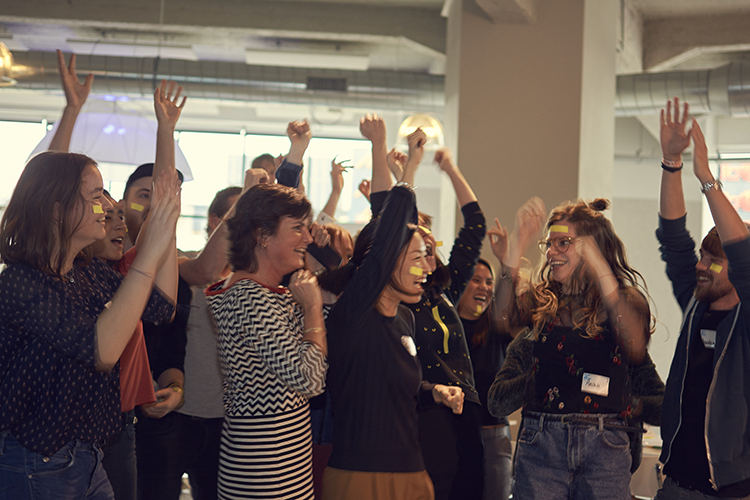 The creative hackathon Designing Democracy is a wrap! We look back at an energetic, collaborative and very successful event at the Dutch Design Week Eindhoven last Friday. Hereby a small report of the day. Interested in receiving more? Please contact us if you want to join us in the follow up!
18 CREATIVE TEAMS & 80 DESIGNERS
About 18 teams with skillful designers and creatives from various backgrounds have shared their capabilities with the world. The 80 designers came from 9 different countries and 42 different design schools and universities! The mere fact so many people came together to develop new inspirational, great and inclusive ideas for better democratic experiences, means we already won.
180 IDEAS
As alderman Mary-Ann Schreurs says: "Democracy is the celebration of doing things together. It needs a mindset that puts action before words, inspiration before authority and collaboration before hierarchy." We have proved this point! More than 180 inspirational sketches have been generated. These are all valuable in its kind and all have true potential to make positive impact.
18 POWERFULL PITCHES
We are proud of all designers who used their creativity to come up with new ideas! At the end of the day we had about 18 pitches for our partners.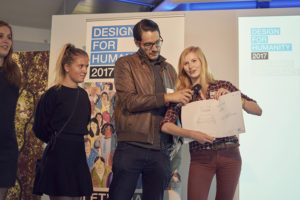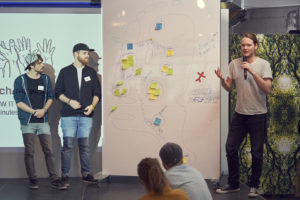 LOTS OF POSITIVE ENERGY
Designing is not only about hard work, it's also about celebrating and energizing. A big thanks to our amazing energizer Janneke and the fantastic Jolly Mangos! And an applause for your dancing moves.
JOIN US IN THE FOLLOW UP
Designing Democracy doesn't end here. Because this is just the beginning! In November we organize 2 workshops, together with the challenge owners. During these workshops, we will connect the dots between all these awesome ideas and select the best to actually execute.
Are you interested in a graduation project, group assignment or internship? Join us! Create your own project and further design a new product/ service/ interaction under our supervision from about January till July.
YOUR OPINION MATTERS!
Did you attend Designing Democracy as a designer/ creative/ innovator? We are curious for your opinion. What was great, what could use some improvement? Let us know and fill in the survey. It will take only 2 minutes of your time.
THANKS!
Team Design for Humanity is grateful for everybody who made Designing Democracy a success. We couldn't do it without the help of so many people. You know who you are 😉
P.S. Want to see your own photobooth pic? Follow us on social media. They will be posted soon.