Connecting Cultures
One of the results of The Refugee Hackathon is Connecting Cultures, a project by Eva de Bruijn.
Newcomers deserve a fair chance in society. For their integration, a strong connection between newbies and natives is essential. Connecting Cultures aims to guide people from various cultures to build up a strong friendship. The toolkit contains several games and exercises that help them to develop a mutual understanding and celebrate diversity.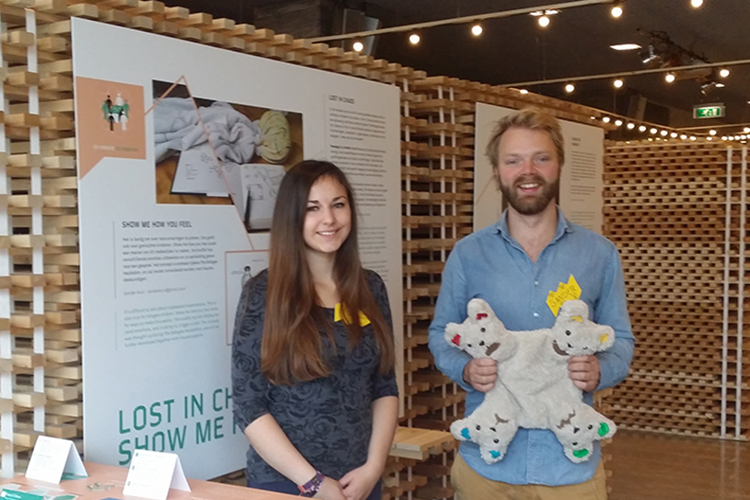 Intercultural contact
Connecting Cultures was one of the finalists of the international design contest What Design Can Do. Questions, exercises and games will guide them through the phases of building up a multicultural friendship. Since a friendship needs time to grow, the players are encouraged to keep in contact and meet again.
The game consists of 4 levels:
Level 1: Get to know each Other
Level 2: Get to know each other's culture
Level 3: Change your glasses
Level 4: Celebrate the Difference!
Pilots
Eva currently runs 10 pilot tests in Eindhoven, Son en Breugel, Zeist, Utrecht, Amstelveen with organizations such as  Buurtkamer KKP in Amstelveen, Fontys Eindhoven, Wegwijz in Zeist, Welkom in Utrecht, Vluchtelingenwerk en Son en Breugel Verbindt. After evaluating the results of the pilot, it is her goal to scale up to 500 toolkits in 2.5 years across the Netherlands.
Eindhoof je mee
Connecting Cultures was one of Design for Humanity's exposed projects at the exposition Eindhoof je mee during Dutch Design Week 2016, Stadhuis Eindhoven.
More info
Find more info on evadebruijn.com/connectingcultures