8 Dec
Report: shaping workshops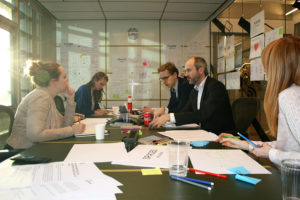 'Can we just agree, with the people here in this room, that we are going to realize these projects?!', a participant said at the end of one our shaping workshops. The question was met with enthusiastic replies.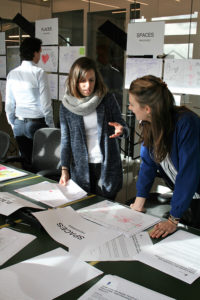 Shaping what?
The past two weeks, Design for Humanity organised 5 shaping workshops, each for a different challenge owner from the creative hackathon 'Designing Democracy'. What is a 'shaping workshop', you might be wondering. Well, it's a session DFH organises as a follow up of the hackathon, where the derived ideas are evaluated, combined and improved upon. All with the aim to create concrete project proposals for the challenge owners, ready to be matched with a designer. Ready to truly make some impact on democracy.
Workshop marathon in Rotterdam
On November 28, we invited NS, KokxDeVoogd and the Ministry of Internal Affairs to our homebase in Rotterdam. Time to connect some dots! We had the pleasure to work with designers Mariette, Simone, Nerea, Elke and Laura. This awesome design team helped us to pick and mix the most inspiring ideas and further develop them into interesting potential projects. The challenge owners actively helped to boost the ideas and gave valuable feedback. At the end of these three intensive sessions, some inspiring new potential solution angles came out. Thanks guys!
Next stop: Amsterdam!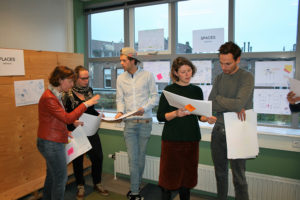 The most relevant, interesting or original sketches, were plastered on the walls, ready to be viewed by a large delegation from the municipality. This time, we were supported by Denny, Marlies and Simone. After a thorough viewing of the sketches, all participants picked out the ones that most appealed to them and tried to find their perfect match. After some thrilling elimination rounds, further ideating and iterating, we left the capital, leaving three new concepts to institutionalize informal communication with citizens.
Eindhovens Election Challenge
Teamed up with designers Mariska and Shu-tong, we went to the municipality of Eindhoven. Main outcome of the hackathon is that voting for municipal election should be way more fun! In a very speedy design session, we combined the results of the hackathon into tangible concepts, both for coming elections as those on the long run.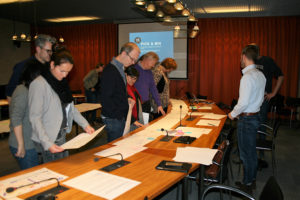 Interesting in working with us in workshops like this? Or looking for a (graduation) design project? Always feel free to contact us!