28 Sep
Studio Connecting Cultures is taking wings!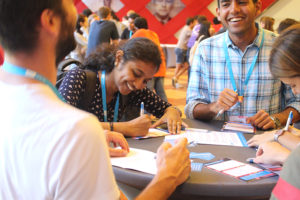 Eva de Bruijn and Laure Peeters have taken the Connected Cultures toolkit to the next level and started a company, aiming to connect people from different cultures all over the place.
"We from Studio Connecting Cultures celebrate diversity. Therefore we find it important that all newcomers can merge into society and feel at home. Accordingly, our mission is to create a sustainable connection between natives and newcomers. Together we build an environment that triggers people to expand their horizon, exchange perspectives and learn from each other."
How do they achieve that? "Studio Connecting Cultures provides a set of workshops that guides people from different cultures to build up a strong friendship. In these workshops, we make use of the Connecting Cultures Toolkit. This toolkit contains small games and exercises in four steps that support the participants to build up a mutual understanding and celebrate diversity."
The coming year, Eva and Laure are experimenting with several settings and formats. Amongst others, they have given a workshop for 400 fresh master students at Eindhoven University of Technology and will showcase their workshops on the Partos Innovation Festival in Amsterdam October 12. "The format of our methodology is customizable to our customer's goals and preferences, ranging from lunch workshops to teambonding events."
Are you interested and want to find out more? Connect with them via their website, Facebook or Instagram!
Also check out www.designforhumanity.nl/connecting-cultures/.